Glass Pool Fencing: Should you Choose Frameless or Semi-Framed?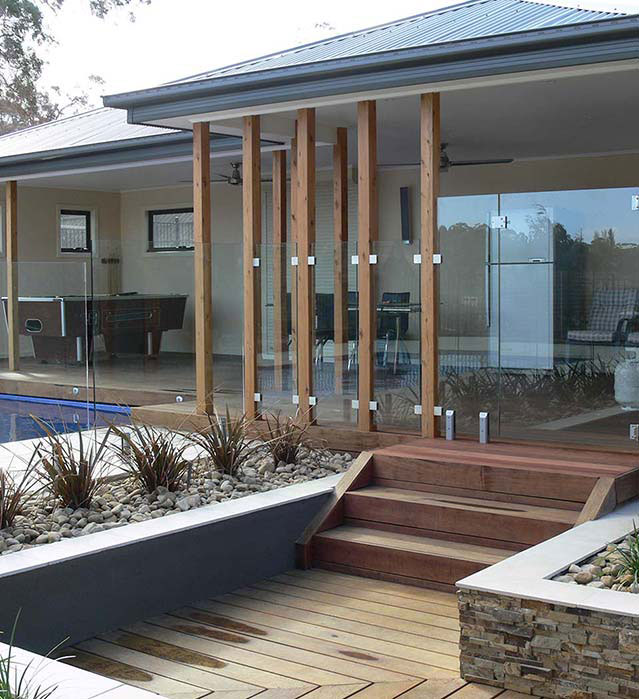 When it comes to owning your own pool, it's often the pride and joy of your family home – it offers a space to relax and make memories with your loved ones, and cool off during hot summer weekends! Even in winter, your swimming pool can be a stunning water feature that elevates your entire property.
It comes as no surprise that you want this space to look its very best, all year round, which is why we recommend glass pool fencing. Two of the post popular choices are frameless and semi-framed glass fencing, and it can be difficult knowing which style will best suit your property and meet your needs.
Frameless Glass Pool Fencing
As the name suggests, frameless glass pool fencing consists of sheets of glass held into place at the bottom of the fencing only – without the need for framing around each panel. Thanks to extra-strong glass panes, steel clamps and cement, the result is a completely obstruction free view across your whole property. It can even make your backyard appear larger!
This option is often considered the cream of the crop by many pool owners, as it can effortlessly suit any architectural style whilst its crisp, clear lines ensure it remains contemporary and modern.
Semi-Framed Glass Pool Fencing
Similar to frameless glass fencing, semi-framed panels offer a crystal-clear view into your pool space. However, unlike the former, semi-framed glass is held into place by sliding the sides of the panels into a stainless-steel frame, whilst the top and the bottom of the glass are left clear.
Though the end result isn't quite as breathtaking as the frameless alternative (but not by much), it is considerably cheaper. If keeping costs low is high on your priority list, then this may be the perfect choice for you. Homeowners can expect to pay between 20 to 30% less for semi-framed pool fencing!
Before you make any purchases, it's important that you ensure your fencing is up to Australian Pool Safety standards. At Dolphin Fencing, we know the legislation like the back of our hand, so we can walk you through the entire process. However, in general, there are a few things to keep in mind:
The glass pool fencing must be no more than 10cm from the ground, and then panels can't have a gap greater than 10cm either – this is to stop any children and pets from squeezing into your pool area.
There can't be any objects near the fence that can be climbed, such as eskies, outdoor furniture or pot plants, to ensure unsupervised children can't get into the pool whilst you aren't watching.
No matter which style you choose – frameless or semi-framed – you can be confident that fencing installed by Dolphin won't just look great, it will stand the test of time too. For a free measure and quote, call our experienced team today on (03) 5975 1655.